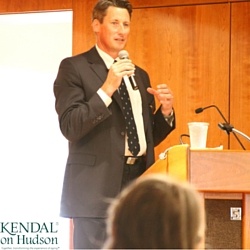 Kendal Corporation's new President and CEO Sean Kelly addressed a group of residents and potential residents recently, driving home the many remarkable differences between Kendal and other retirement living communities.
A Place Where People Come Together
"Ours is not a forced culture, but one where people naturally come together. The level of engagement and interaction here is real—it's embedded in our philosophy and practices," Kelly explained at the April 19 event.
"There are no recreation directors here: All of our activities are resident-directed, and this allows residents to be part of something larger than themselves on a daily basis," he added.
A Unique Model
The Kendal system is a unique in senior living, based on an affiliation model. Each of the 13 Kendal communities are separate corporations with local boards and local control, who come together in an affiliation led by the Kendal Corporation. This model ensures the best of both a national program and local control. The model is, says Kelly, "equally felt as it is impactful in a tangible way. We're passionate about our common goals nationally, but we're wholly committed to local resourcing and support. The levels of engagement and interaction we strive to achieve are only exceeded by the people who live here - Kendal on Hudson is an engaging and amazing place."
Resident Engagement
Residents living in retirement communities ask for higher levels of engagement and participation, and higher levels of transparency and disclosure.
"That's why Kendal thrives upon and insists upon the highest levels of engagement, dialogue, and discourse—because we know the best answers come from the sum total of all of us," Kelly said.
"We exceed our obligations for financial disclosure. We provide full transparency and share a wide variety of financial information—and it's not just the volume of information we share, but our willingness to discuss how we might present it differently to encourage more interaction," he added.
National Leverage and Local Governance
"Each property has a local board of directors and management, offering excellence, innovation and quality at the local level, while leveraging value from the larger Kendal system, which provides ongoing strategic support and shared cost savings for things like information technology and employee benefits," said Kelly, who is a graduate of Ursinus College and Wharton Business School.
"Affiliates pay a percentage of revenue to be part of the Kendal system, but individual resident money remains in separate reserve accounts at each Kendal location and would never be used to bail out another affiliate, should such a need ever arise."
"We keep a modest contingency on hand at headquarters to help to fill a small gap—but it's much more important to have financial strength and reserve on the grounds of each community," said Kelly.
Commitment To Leadership Development
Kelly discussed what he believes to be his first responsibility; namely, to support each Kendal affiliate and individual leader involved with operations, health services, finance, facility management, and dining and hospitality at each location. He's also committed to staff leadership development programs, to support the continued strength of the system.
Systemwide Excellence
Kelly presented a number of examples of how the system, working together, accesses model practices that enhance the lives of Kendal residents. A great example: Vitalize 360.
A joint venture of Kendal Outreach and Hebrew SeniorLife, Vitalize 360 is a coaching and assessment process that uses art and science to promote optimal wellness for successful aging. The program combines an award-winning, innovative, person-directed approach to wellness coaching with scientifically-grounded assessments. Vitalize 360 empowers older adults to live full, healthy and vibrant lives while enabling communities to demonstrate appreciable improvements in successful aging, rather than just "throwing programs at them," says Kelly. The program is very popular and has already been adopted by 15 other organizations outside of Kendal.
A Culture That Respects Each Individual
"Our culture is different: We have great aspirations and compassion that are deeply rooted in our Quaker history. We honor and respect each individual and community; we value their ideas and collaborate with them continuously to find the best way forward. We are excited about the future," said Kelly, who took over the helm as president and CEO earlier this year after succeeding Kendal's previous CEO, John Diffey, who retired after 24 years in the role.
The energetic CEO concluded: "The vibration we hoped for is here—but it doesn't stay unless we give life to it every day. It's not just me and the senior staff: It's everyone contributing to the Kendal culture every day."
"We have a willingness to understand and learn from each campus and the diversity they offer. We're determined to share—programs, platforms residents, and staff—to stimulate collaboration and maintain the stability of our financials on the ground at each location. We're not going anywhere: Our goals is to be good for the long haul."
##
---
Share this article with your friends!
---