Fields and gardens are bursting into life this summer! Some of our favorite fruits and vegetables are in season, and we look forward to making meals out of the fresh produce and herbs coming out of our gardens.
Kendal on Hudson's Executive Chef, Jonathan Carafa, couldn't choose just one fresh summer ingredient because he loves all of the fresh produce the summer provides. He enjoys making a variety of recipes with these fresh ingredients, including salsas and composed salads. We caught up with Chef Jonathan to see what he is dishing out this summer—and he also provided us with a recipe!
Meet Chef Jonathan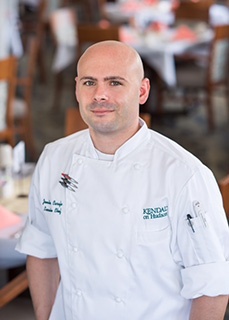 Jonathan knew at a very young age that he wanted to be a chef when he grew up.
"My family was always cooking, whether it was making pasta, pizza or cooking the usual Sunday dinner. Everyone knew where to find me," he said. "I was always with my mother or my nonna (grandmother) cooking up dishes with them."
Jonathan made early admissions to The Culinary Institute of America and graduated in 2009 with his Bachelor's Degree in Hospitality Management and Culinary Arts. His culinary journey began in Seattle, Washington and he has been an Executive Chef since the age of 22.
"When you acknowledge, as you must, that there is no such thing as perfect food, only the idea of it, then the real purpose of striving toward perfection becomes clear; to make people happy, that is what cooking is all about."
Jonathan lives by this quote every single day.
Outside of Kendal on Hudson
Summer months are full of busy schedules, especially on the weekends when you are planning or attending a get-together with family or friends. When Chef Jonathan is not cooking up another delicious dish in the Kendal on Hudson kitchen, he enjoys entertaining in his own home.
"I would say 75% of my time outside of Kendal is spent in my kitchen at home cooking and experimenting on new recipes. There is always something new to learn and you have to keep up the with the trends," Jonathan tells us. "Don't get me wrong, I would love to be a guest, but at the same time, I always like to give my personal touch on things."
As far as grilling or barbequing during the summer months, he enjoys doing both.
"Barbequing and grilling are totally different. When you barbecue, you are cooking with a slow circumvented unit of hot air with the lid closed," he explains. "Grilling is done with the lid up and you're cooking with direct heat on the bottom, instead of all around the source."
His favorite dish that he enjoys making over the grill would be a grilled New York strip steak served with a bourbon barbecue sauce, caramelized onions, grilled asparagus and a baked potato with sour cream and bacon bits.
Healthy and Delicious Summer Meals
"I'm a firm believer that first and foremost, food needs to be delicious. There is simply nothing very inspiring about a bland bowl of flavorless healthy food," he explains. "As a professional chef, I've watched from a distance as the Internet has exploded with endless recipes for healthy food. And while there are a lot of great ideas and great dishes circulating, I find that the little tricks of the trade that we chefs learn growing up in kitchens are often overlooked. Armed with a little bit of savvy and a well-tuned palate, you can turn the ordinary into the extraordinary."
Here is a fresh and delicious recipe from Chef Jonathan.
Salsa verde
3 tablespoons chopped mint

3 tablespoons chopped basil

3 tablespoons olive oil

1 teaspoon chopped garlic

2 teaspoons chopped capers

1 teaspoon chopped Calabrian chilies or crushed red pepper flakes
Steak
Two 12-ounce New York strip steaks

Kosher salt

Freshly ground black pepper
To serve
12 baby eggplants, like Fairy Tale or graffiti, cut in half lengthwise

1 cup cherry tomatoes, halved

6 tablespoons salsa verde (recipe above)

1 tablespoon torn fresh basil leaves

1 tablespoon torn fresh mint leaves
Preparation
For the salsa verde:
In a mixing bowl, combine the mint, basil, olive oil, garlic, capers and chilies. Season with salt and black pepper to taste. Reserve at room temperature to allow the flavors to develop at least 30 minutes before you are ready to serve.
For the steak:
Pull your steaks out of the refrigerator to rest at room temperature for about 45 minutes before you are ready to cook them.

Preheat your grill or grill pan over medium heat. Season the steaks generously on both sides with salt and pepper.

Grill the steaks for 4 minutes on each side, turning the steak every 2 minutes for a nice medium to medium-rare. Allow the steak to rest for 5 minutes before slicing.
To serve:
Grilled the baby eggplants, cut side down, on a very hot grill until charred well and hot throughout.

Spoon the room temperature salsa verde onto a serving plate to make a bed for the steak.

Toss the cherry tomatoes with a tablespoon of salsa verde to season.

Slice the steak and place on top of the salsa verde, sprinkle with a little sea salt, olive oil and garnish with the seasoned cherry tomatoes and torn herb leaves.
Being a Part of the Kendal on Hudson Community
Being the Executive Chef at Kendal on Hudson has been an adventure for Jonathan, who is happy to be a part of the community. He especially enjoys getting to know the residents and providing them with delicious and newly crafted foods for them to savor.

"Each resident has a story to tell about where they came from, what their lives were like and I always love to hear what they have to say," he said.
He also enjoys working with the staff at Kendal on Hudson and explains that they are one-of-a-kind.
"Since walking in the door, they have welcomed me with open arms and smiles," he said.
Dining at Kendal on Hudson
Kendal on Hudson has two dining areas, The Bistro and the Formal Dining Room. The Bistro offers three meals daily with a full menu for breakfast, lunch and dinner. The Formal Dining Room is open for dinner where you can enjoy the same menu as The Bistro, but you also have a wait service.
To learn more about the lifestyle or living options at Kendal on Hudson, you can contact us or call 866-358-5802.
---
Share this article with your friends!
---